Is Your Canine the Cutest Indian Dog Alive?
 CONTEST IS CLOSED NOW! CHECK THE TOP 10 FINALISTS HERE.
Calling all guardians of rescued Indian community dogs (the kind of dogs who can be found on any Indian street)! Was your pup adopted from an animal shelter or rescued from the street? Does he or she have eyes that can melt hearts? A wonky ear that makes everyone say "Aww"? Or a toothy grin that can't help but make you smile? Then enter your rescued pooch in PETA's 2016 Cutest Indian Dog Alive contest for a chance to win big-time bragging rights as well as fashionable accessories for your cute canine companion!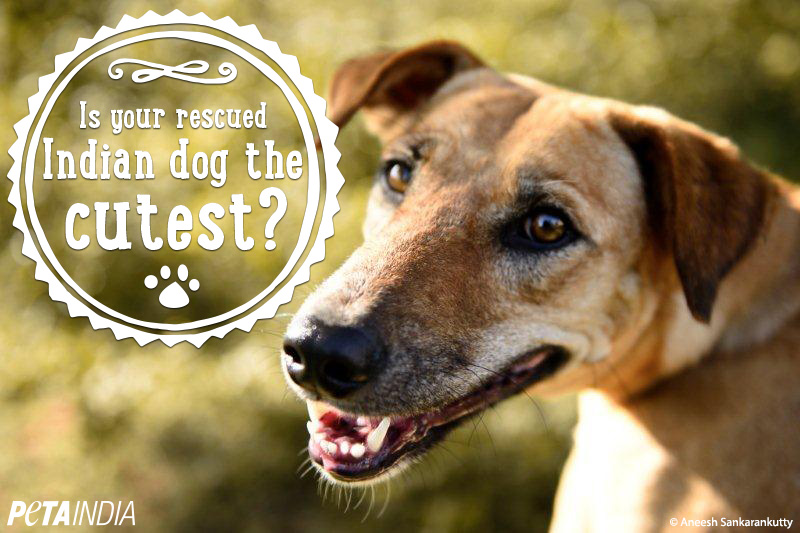 The guardian of the lucky pup who is named the Cutest Indian Dog Alive will receive a first-place certificate and a "100% Desi Dog" doggie T-shirt, and his or her guardian will receive a "I Heart Desi Dogs" T-shirt as well as a copy of Ingrid E Newkirk's book Let's Have a Dog Party. The second-place winner will receive a second-place certificate and a "100% Desi Dog" doggie T-shirt, and his or her guardian will receive a "I Heart Desi Dog " T-shirt. The third-place winner will receive a third-place certificate and a "100% Desi Dog" doggie T-shirt. All winners will appear in an upcoming issue of Animal Times, PETA India's magazine for members. To enter for a chance to win, just send in a photo of your precious pooch – along with information about how your dog was rescued and from what situation – using the form below.
What makes Indian community dogs so irresistible? Not only are they attractive outwardly – with expressive eyes, alert ears and trim physiques – they also have hearts of gold. They are quick learners, highly adaptable and undyingly loyal to the person who saves them from the street or from life in a shelter.
Sadly, many of these wonderful dogs don't have a special person to love or a soft bed to curl up on at night. Countless others are left to languish in animal shelters because there aren't enough good homes for them. PETA encourages people who are ready to open their hearts and homes to a canine companion to please boycott breeders and pet shops – which bring more animals into a world that is already short of good homes – and adopt India's very own adorable and affectionate community dogs instead. We also urge dog and cat guardians to be sure to have their animals sterilised to help us end animal homelessness. All Indian community dogs who find good homes are winners – and so are their guardians!
This contest is open to residents of India only. The contest closes on 4 September 2016. PETA will select 10 finalists based on equal consideration of two factors: our assessment of how cute and heartwarming the photo of the dog is and our assessment of how inspirational and motivational the submitted rescue story is. After the 10 finalists are selected by PETA, voting will then be opened to the public on 07 September 2016 to help PETA decide who it should choose as the winners and will close on 23 September 2016. The winners will be chosen by PETA's judges, with equal consideration given to three factors: the total number of votes received and the two considerations outlined above. PETA will announce the winners by 28 September 2016. No purchase necessary.  Void where prohibited by law.