It's Ingrid E Newkirk's Birthday … Time to Celebrate
Today, PETA founder Ingrid E Newkirk  is celebrating her 66th birthday! If you're wondering what to get her, we've got just the thing!
One group that's very close to Ingrid's heart is Animal Rahat, and no wonder: Animal Rahat helps hardworking bullocks, donkeys, ponies and horses in India, where Ingrid spent much of her childhood. Animal Rahat gives them relief (that's what "rahat" means) from the heat, water to quench their raging thirst, a place to rest, veterinary care for their yoke and harness injuries and sometimes even fodder during periods of drought when the subsistence farmers who own them can't afford to feed them.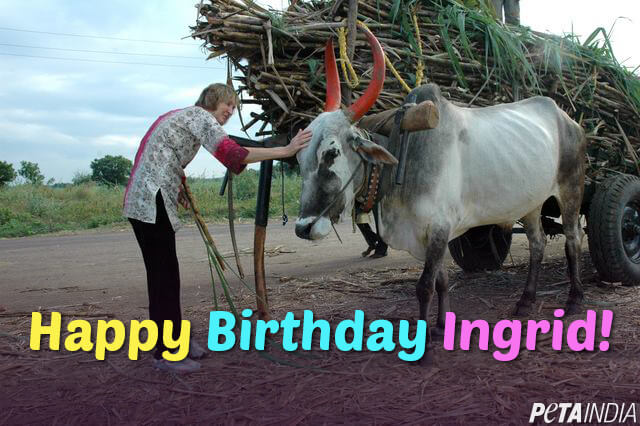 Animal Rahat also offers a programme that allows bullocks to retire and live out their lives with their human families instead of being sent to slaughter. You may recall the story we shared with you about Animal Rahat's Tractor Project, which has already saved nearly 6,700 bullocks – 6,696 to be exact – from toiling under the yoke for sugar factories.
Animal Rahat is doing great things for some of the least fortunate animals on Earth. To help them out – and to celebrate Ingrid's birthday – just zip over here.
Click here for more Animal Rahat success stories.