Hooray! Animals Banned at Chinchali Fair
Following a meeting with officials of Animal Rahat, PETA India's sister organisation that works to bring relief to bullocks and other animals forced to work, the Department of Animal Husbandry & Veterinary Services and the Honourable N Jayaram, Belgaum District Collector, both in Karnataka, issued a statement prohibiting bullocks and ponies from being used during the Chinchali Fair.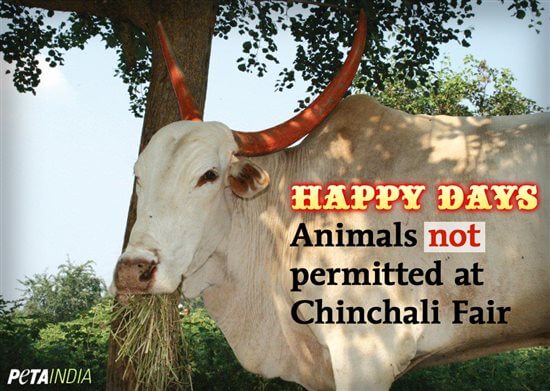 During the meeting, Animal Rahat pointed out that the outbreak of foot-and-mouth disease in the area would place the animals at a heightened risk for contracting the disease, which can lead to painful blisters in the mouth and on the feet or even death. Consequently, the Honourable Deependra Singh Kushwah, Sangli District Collector, Maharashtra, also sent an advisory to the Sangli district administration and farmers highlighting Jayaram's order and urging people to save their animals from foot-and-mouth disease by not taking them to the fair.
Usually, bullocks, ponies and horses are forced to transport entire families to the fair from as far as 250 kilometres away, and the overburdened animals are forced to run almost the entire distance. The collectors' orders also mean that, this year, hundreds of animals will be spared the pain and injuries that they normally endure during the trek.
In the past, Animal Rahat encouraged bullock owners and families to visit the fair by taking the subsidised bus service offered by the organisation and encouraged them to allow their animals to rest at home. Animal Rahat's veterinarians had also treated hundreds of bullocks and horses for stress, pain, injury and disease during past fairs. The group also provided animals with clean drinking water and showed attendees how to care for animals properly. It had deployed full-time veterinary teams to the fair and rest stations along the route. Additionally, Animal Rahat had placed posters at the fair and cautioned attendees at all three rest stations not to hitch a horse and a bullock together, never to whip or beat an animal and to use a morkee (face harness) instead of a cruel and painful nose rope.
Thanks to everyone who supported Animal Rahat – your actions have paid off! This is a huge step forward for animals and for a more compassionate India.