Fashion Week Goes to the Elephants
Hey, all you animal-loving fashionistas out there! PETA and the Fashion Design Council of India (FDCI) are teaming up again at the Wills Lifestyle India Fashion Week (WIFW) Autumn/Winter 2014  shows in Delhi from March 26 to 30. This year's "Fashion for Freedom" campaign focuses on the message "Animals Don't Belong in the Circus".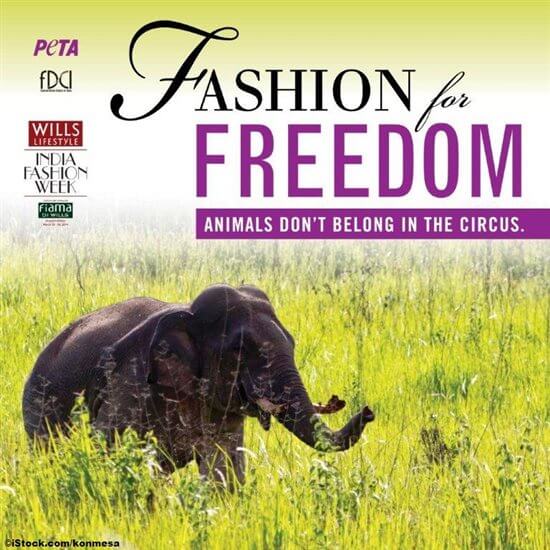 Bollywood stars and the fashion elite know how to rally for animals in style. In 2012, the WIFW-PETA stall was a huge hit, and stars Mahima Choudhry, Gulshan Grover and Monica Dogra wore gorgeous animal-print designs to make the point that animals don't belong in zoos. This year, PETA's elephant mascot will distribute badges that say, "I ♥ PETA", while holding a sign that urges attendees to "be an elefriend: ban animal circuses".
Animals who are forced to perform and travel with circuses suffer endlessly. Trainers use weapons such as spiked sticks and whips to force them to do things that they never would do in nature. Some circuses even force injured, sick, lame and diseased animals to perform in violation of The Prevention of Cruelty to Animals Act, 1960. Animals are denied adequate food and water and are tethered and caged for days on end, with no relief from their intense confinement.
The Animal Welfare Board of India (AWBI) and the Central Zoo Authority recently issued "show cause" notices to circuses after a nine-month investigation  conducted by PETA and Animal Rahat, which the AWBI authorised. Also as a result, the AWBI confirmed in the minutes of its 39th general meeting held in Chennai that it has "decided to stop registration of elephants for performance under the Performing Animals Rules in view of huge cruelties and abuse suffered by them". PETA is now calling for the implementation of this decision and an absolute ban on the use of animals in circuses. 
Make sure to stay on trend and be on the lookout for a special PETA Fashion Week surprise on March 28! You never know what will pop up this year at WIFW. Stay tuned on Facebook and Twitter for the exciting update.