FAQ About Sunder
PETA India thanks everyone who has been asking about Sunder. Here are answers to some commonly asked questions: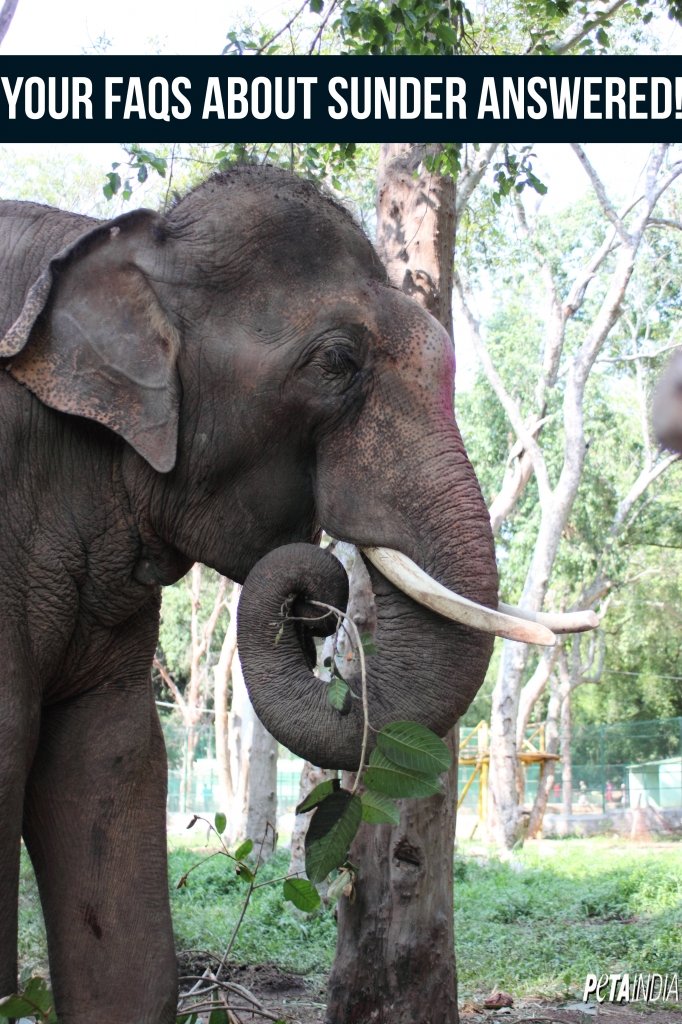 Why was Sunder sent to the Bannerghatta Biological Park (BBP) in Bangalore?
The Bombay High Court chose to implement the Maharashtra state government order to release Sunder to the Wildlife Rescue and Rehabilitation Centre (WRRC), which is a part of the BBP. The Supreme Court confirmed the order of the Bombay High Court. The elephant care centre at the BBP is the only facility for captive elephants in India that is recognised by the Central Zoo Authority (CZA) – a requirement for places that permanently keep captive wild animals – where the elephants have access to 49.5 hectares (122 acres) of natural forested land and natural ponds; can socialise with other elephants; will not be used for riding, logging or demolition or other forest work and are generally permitted to walk around on their own, albeit under the watchful eyes of their mahouts (handlers).
Why wasn't Sunder sent to a different facility?
In its affidavits, PETA had suggested to the Bombay High Court that Sunder should be sent to Wildlife SOS and was willing to pay the amount required by the facility for Sunder's care, but the courts chose the BBP. In its 7 April 2014 judgment, the Bombay High Court stated, "The facility at Bengaluru is closer to the present location of Sunder and it is not possible to accept the suggestion of the Petitioner to transport the elephant to Mathura although the facilities at Mathura may be more modern".
Why wasn't Sunder sent to the elephant sanctuary in Haryana?
The elephant sanctuary in Haryana wasn't functional when Sunder's case was heard in the Bombay High Court or when judgment was passed on 7 April 2014. A recent update on the Wildlife SOS website indicates that the Haryana facility is now functional and houses two elephants.
Are there any other sanctuaries in India for elephants?
While there is talk of building suitable elephant sanctuaries in India, there are no fully operational and permanent sanctuaries for rescued elephants in India which has CZA certification or Project Elephant's approval. BBP is certified by CZA, is operational on a forested land, has required facilities to maintain captive elephants, does not force elephants to work and does not have other serious problems.
Why is Sunder currently restrained?
Since Sunder was the victim of almost unimaginable abuse for nearly 15 years, the veterinarians and the new mahouts are getting to know his temperament, and since this is a large park, they are proceeding with caution in order to protect Sunder, the other elephants and themselves. They are introducing him to his new environment and family slowly, with care and restraint. Abused elephants commonly harm or kill mahouts and others around them, so they must be handled with caution and mutual trust must be built. The mahouts at the park are new to Sunder, and the only mahouts he has known in the past were those who beat him repeatedly, even when he was lying down. A new relationship is being established between Sunder and the new mahouts, and building that trust takes time. We already see progress, though.
Sunder is also still suffering from a massive injury on his leg that he sustained while he was being abused. So while he has been introduced to his new elephant family members, he has not yet been permitted to walk through the 49.5-hectare forested area with them. But he will, once his wound is healed!
So that Sunder does not have to remain restrained in the current manner for so long during this process and while he's getting used to the park, officials there have granted PETA permission to build an enclosure in which he can be treated while also being protected from the rain, which is necessary in order for his injury to heal. Sunder can also sleep here at night.
Why are other elephants at the BBP sometimes restrained?
As we understand it, although the elephants are generally permitted to walk around on their own, they may be restrained for medical care and loosely restrained during feeding and when the mahouts need to keep them together (or separate) for some reason, such as for their safety or the safety of others. The mahouts often sleep next to the elephants. When the mahouts feel it is required, sometimes precautions are in place in order to restrain, grab hold of or secure elephants with what are called "drag chains". They are used in case of trouble, particularly with the big elephants, such as if one charges at someone. Drag chains do not restrict an elephant's movement but allow him or her to be caught if needed. The elephants at the elephant care centre are captive, not wild. However, from what we have seen, unlike elephants used by temples and other exploitative ventures, elephants at the BBP are generally able to walk through the forest, bathe in ponds and simply be elephants. And the restraints are expected to be phased out after the facility builds a fence around its enormous perimeter, something we are pushing for.
Is the BBP a zoo?
The BBP describes itself as a biological reserve. It comprises a zoo; several animal rescue centres, such as the Bannerghatta Bear Rescue Centre run by Wildlife SOS, the Born Free Foundation?s facility for rescued tigers, and the Wildlife Rescue and Rehabilitation Centre for rescued wild animals run by Compassion Unlimited Plus Action; and a safari park and is carved out of the Bannerghatta National Park, a protected area for the conservation of wild animals, as defined by the International Union for the Conservation of Nature (IUCN).
Does the BBP give elephant rides or use the animals for other forms of "entertainment"?
Although the BBP used to, we believe it is not legally permitted to now. A couple of years ago, the BBP decided to set some goals for itself, as reported in a New Indian Express article: "[Elephants] will no longer be shackled or put as display items in their enclosures. They will be left free inside the safari with no interference from human beings". While "no interference" entirely may not be possible for captive elephants, the BBP is working towards these goals, so any videos that might be available on the Internet that show anything different could be from before the BBP set these goals. Mahouts have been seen riding the elephants at times when they are being moved from one place to another.
Will the BBP's mahouts care for Sunder well?
The mahouts dealing with Sunder are all new, and it is being impressed upon them (and other mahouts at the BBP) that elephants must be handled through mutual respect and understanding, not as traditionally done, which was through punishment. The executive director of the BBP seems to be on board with this view, but developing that type of understanding with an elephant takes time. The veterinarians from PETA's sister organisation Animal Rahat have been at the BBP since Sunder was moved there, helping everyone there get comfortable with Sunder and vice versa. They are working with the mahouts to help Sunder understand new commands so that he'll become easier to handle for veterinary care (which is especially important if his wound heals but opens again) and feeding. (Sunder has known only the commands of his former abusive mahouts). PETA also continues to engage with elephant experts in India and abroad to help smooth this transition.
Why hasn't the BBP already fenced its 49.5-hectare perimeter?
As you can imagine, it will cost crores (millions) of rupees to fence the entire perimeter with a sturdy enough fence to handle elephants, and that seems to be one reason. The BBP has always handled the elephants in a different manner by having precautions in place for restraint, using drag chains to grab hold of or secure elephants in case of trouble and having the elephants directed by mahouts. The good news is that the BBP was already planning to fence its perimeter before Sunder was sent there, because doing so is part of the BBP's new CZA-approved master plan. Sunder's arrival just acts as extra motivation, and we are pushing for the fence to be erected sooner rather than later.
Is living at the BBP genuinely good for Sunder's well-being?
Sunder spent six years of his life at the Jyotiba temple in Kolhapur being beaten, often being confined to spiked chains, being alone, living amongst people who had no idea how to deal with elephants and going without veterinary care and enough food and water. After this, he was moved to the private property of politician Vinay Kore, where he lived in a dark poultry shed and continued to be treated in the same hideous way.
At the BBP, Sunder has a new family of his own species. This might be the first time he has met any other elephants since being torn away from his loving mother as a baby. Sunder is reportedly already excited by and attached to this new family, particularly certain members, such as a male elephant named Van Raj and a female one named Vanashree. He thoroughly enjoys his time with them and longs to be with them when they go on walks. (He cannot go with them yet.) Although he was initially afraid of baby Shiva, he is now curious about him, too, and gently explores him.
Sunder is finally receiving the veterinary care he so desperately needed, and instead of being beaten, he is enjoying being groomed, given fruit and gently taught commands. He will soon be able to roam with his new family in the forested area and bathe in natural ponds.
How is PETA helping now?
PETA is continuing to help Sunder. We have donated funds for Sunder's lifelong care, have obtained permission to construct and fund a temporary enclosure (see above), have obtained permission for the building of a musth enclosure for the male elephants so that they are not chained during their period of sexual urge (the common method in India for this is chaining), have our sister group's veterinarians on site to help with the transition and training Sunder's new mahouts; have confirmed with the BBP that it does indeed plan to build a fence around the perimeter so that the restraints it currently uses on elephants can be phased out and are consulting with elephant experts in India and abroad to help with these various transitions.
You can keep up to date on Sunder's life on PETA India's blog.