Dipannita Sharma Sheds Light on the Cruelty of Exotic Skins
When supermodel and actor Dipannita Sharma isn't strutting down the catwalk or starring in Pizza 3D, she's busy using her star power to help animals in need. In a striking new ad against the cruelty of exotic skins for PETA, Dipannita poses as the true glamazon that she is, asking fans not to buy or wear products made from exotic animals. Dipannita's sultry and cruelty-free Nikhil Thampi bodysuit was styled by Chandni Bahri and topped off with Valliyan by Nitya Arora accessories. Hair and makeup were done by Rohini Foregard. The ad was shot by top photographer Colston Julian.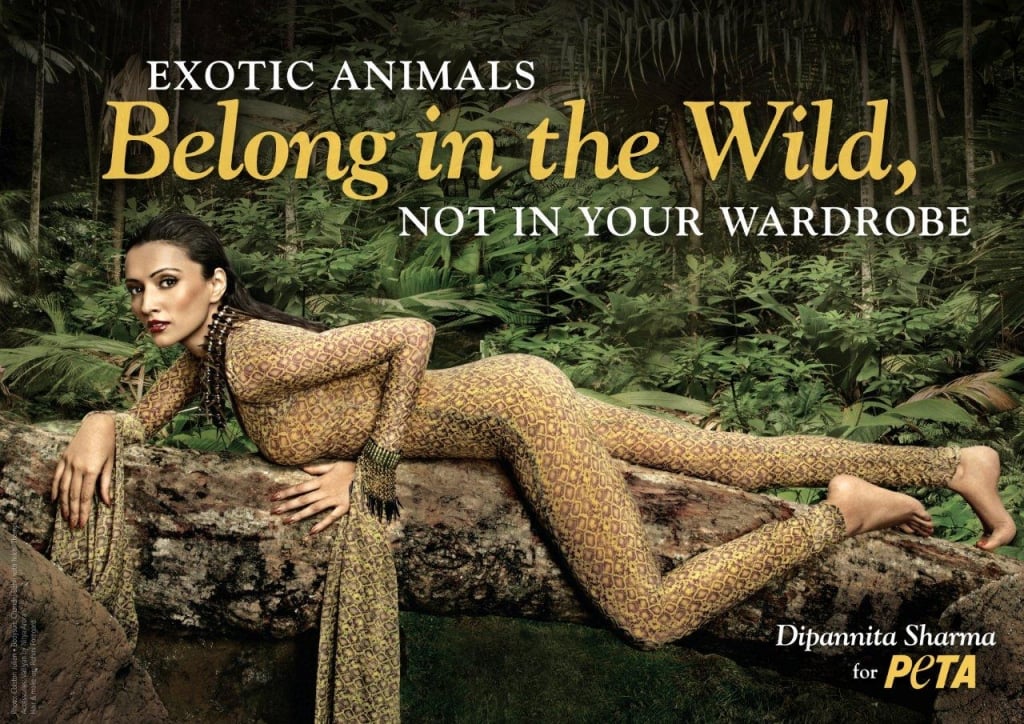 Known for her stunning looks and elegant poise, Dipannita is a style icon and has for major fashion designers in India. Now she wants consumers to know that buying into the cruel treatment of animals for fashion isn't chic.
"I have never, ever used exotic skins in my life. I have never understood the style quotient of carrying a clutch for which an animal had to go through so much torture", says Sharma. "I don't think it takes away from my fashion or style quotient because I am carrying faux leather, something for which an animal has not gone through torture."
Snakes, alligators and other exotic animals endure agony before their skins are used to make bags, shoes and other products. On alligator farms, up to 600 animals can be kept in a single tiny building that reeks of rotting meat and faeces before they are beaten to death with hammers. Snakes are often nailed to trees or posts and skinned alive because of the widespread belief that live flaying makes the skin suppler. After the animals' peeled and mutilated bodies are discarded, it can take hours for them to die – usually from shock or dehydration. It's never been easier to spice up your wardrobe with cruelty-free looks, thanks to the oodles of designers and retailers featuring faux and synthetic materials in their collections.
You can encourage others to shed exotic skins from their wardrobes as Dipannita has: share PETA US' shocking exposé narrated by Joaquin Phoenix that shows exactly what happens to alligators, lizards and snakes before they are made into bags and belts.