CZA, AWBI Issue 'Show Cause' Notices to Circuses
Two government bodies – the Central Zoo Authority (CZA) and the Animal Welfare Board of India (AWBI) – have issued "show cause" notices to circus owners following a nine-month investigation of 16 circuses across India conducted by a team that included representatives from PETA India and Animal Rahat and that was authorised by the AWBI, a statutory body operating under the Ministry of Environment and Forests (MoEF). In its "show cause" notice, the CZA stated that it is considering withdrawing the recognition of circuses as a "captive animal facility", making it illegal for them to keep wild animals.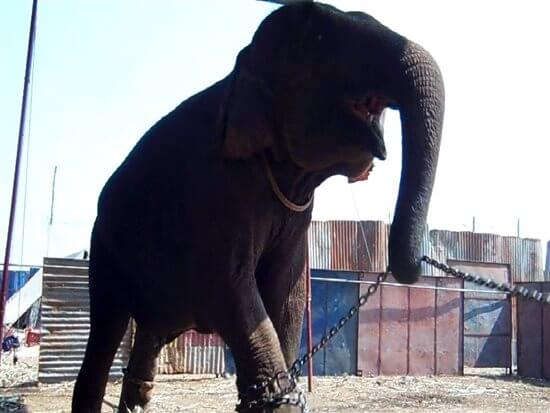 PETA India's investigation of circuses was conducted from November 2012 to July 2013, and the findings included rampant use of weapons; animals who had died from inadequate care or who had simply "gone missing"; drunken circus staff who were handling animals; nearly constant chaining and caging and other severe confinement of elephants, dogs, cats, birds and other animals; animals who showed signs of severe psychological distress, including constant swaying, circling and even self-mutilation; the use of elephants and other animals who were nearly blind or had severe eye problems and other cruelty.
In the official minutes of its 39th general meeting, the AWBI confirmed, "In view of the [PETA India] report, the Board decided to stop immediate performance of all the injured and aged animals in the circuses mentioned in the report and seize them after making arrangement for rehabilitation with some of the AWOs [animal welfare organisations] and Zoos". The notes further stated, "The Board decided to stop registration of elephants for performance under Performing Animals Rules in view of huge cruelties and abuse suffered by them". In addition, the notes indicate support for a ban on the use of animals in circuses.
PETA India is now calling on the MoEF to ban the use of animals in circuses as Cyprus, Bolivia, Greece and Bosnia and Herzegovina have already done. PETA India is also calling on the AWBI to implement the decisions that it made during this general meeting, which was held in August.
You can help animals trapped in circuses.