Bombay HC Directs Phase Out of Horse Carriages in Mumbai
Today, PETA India can announce that the Bombay High Court directed that horse carriages be phased out in Mumbai within a year.  In its order, the Court deemed that the use of horse carriages in Mumbai is "completely illegal". Read the full court order here.
 The victory follows many years of campaigning by PETA India, which intervened, along with People for Animals (PFA), in the Public Interest Litigation filed by Animals and Birds Charitable Trust (ABCT).
Previously, the Mumbai traffic police had restricted where and when the Victorias could be used in the city, but the numerous challans issued by the traffic police for violations over just a few months revealed the ineffectiveness of the partial ban.
PETA provided the court with evidence of cruelty to horses from its numerous investigations  of Mumbai's horse-drawn Victoria industry, information about exhausted horses collapsing, and becoming victims of traffic accidents. These reports revealed that the horses were often injured, sick or severely malnourished and that they were forced to stand amidst their own waste in filthy and decrepit stables. Reports further revealed that the horses were frequently denied adequate rest, water and veterinary care.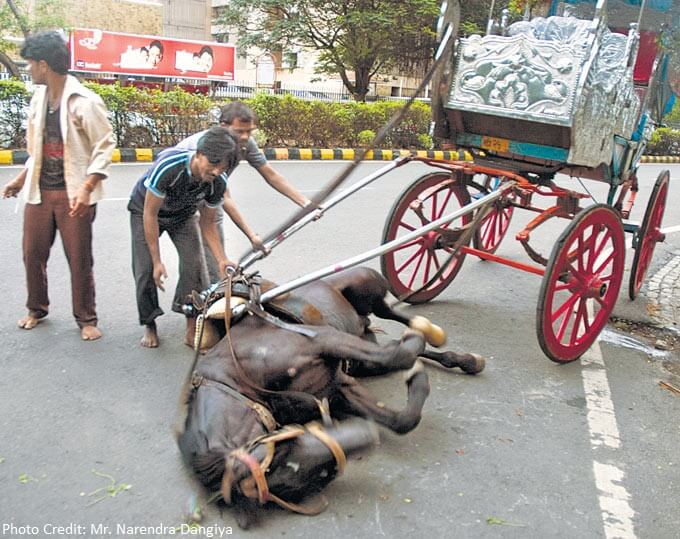 The court's decision is supported by numerous celebrities, including Anushka Sharma, Arjun Rampal, Zeenat Aman, Hema Malini, Mahesh Bhatt, John Abraham, Pooja Bhatt, Jacqueline Fernandez, Sunny Leone, Dino Morea and choreographer Sandip Soparrkar and his supermodel wife, Jesse Randhawa, as well as many others who took to Twitter, met with concerned government officials or helped in other ways to rid Mumbai of horse-drawn Victorias. Thousands of people also took part in PETA's online campaign to call for the ban.
M/s K Ashar & Co Advocates & Solicitors were the advocates on record for PETA, and the group was represented in the matter by Senior Counsel Jayaprakash Sen. PFA were represented by Senior Counsel Shiraz Rustomjee while ABCT were represented by Advocate Firoz Bharucha.
Keep checking this blog for more updates on this case.
YOU can help us spare more animals from suffering.