The Best Christmas-Gift Ideas Ever
When it comes to giving a gift, it's the thought that counts, so how about thinking about animals this year and letting them know that they can count on you by helping Animal Rahat this Christmas? A PETA-supported programme, Animal Rahat brings relief to some of the most neglected animals in the world – the bullocks, donkeys and other working animals of India.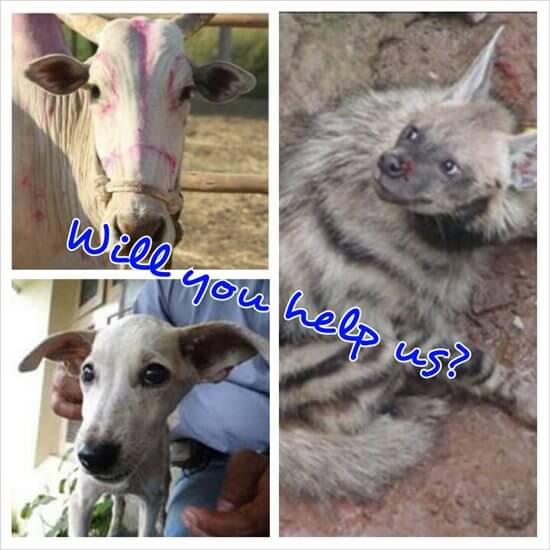 Consider Pardhanya, a bullock who has spent much of his life hauling sugarcane. Animal Rahat worked with his owner to get him retired to their sanctuary. Today, the yokes are off his shoulders, his aching limbs are at rest and he is enjoying his remaining years free from toil.
Animal Rahat responds to calls for assistance with other animals in danger – and it never says no. For instance, the Rahat team rescued Snow White after she had been struck and injured in a busy street and left bruised and bloodied,with a gaping wound in one of her legs. Their staff cleaned her wounds, treated her for fleas and fed her what was probably the first square meal that she had eaten in her entire short life.
Rahat also pulled this scared little hyena out of a well.
Help make it a holly-jolly Christmas for India's neediest animals in no time at all by making a donation, pledging a monthly gift or virtually adopting Snow White or one of her other Animal Rahat sanctuary friends on behalf of your loved ones. We guarantee that these gifts from the heart will be cherished both by those who receive them and those who benefit from them!
Thank you for helping the hard-working souls such as Pardhanya, who are now able to enjoy a golden retirement, as well as all the animals Rahat has rescued and all the animals we and Animal Rahat serve. Happy holidays!