Animal Rahat Team Rescues a Hyena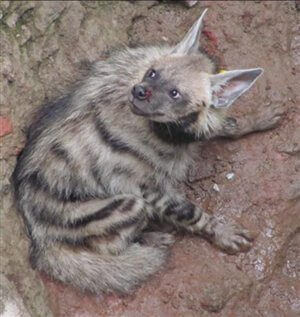 Late one evening in a village in Maharashtra, a terrified hyena was running to escape a pack of street dogs when she tumbled into a well that was not visible to her in the darkness and plunged 50 feet down to the bottom. She had evaded the dogs, but now she was banged up and hopelessly trapped.
A man happened to witness the hyena's fall, and he jumped into action, calling Animal Rahat, our affiliate working in the Sangli district of Maharashtra, for help. Animal Rahat promptly sent a rescue team, which quickly hatched a plan. The team lowered a large net and, after several tries, was able to scoop up the hyena and pull the scared little animal to safety.
Members of the team took the hyena to the Rajiv Gandhi Rehabilitation Centre to be checked for injuries and treated. After nearly two months of rehabilitation, the rescued hyena ate her last meal in captivity and was released back into the jungle. The area where she stepped out of her transfer cage was close to where she was found. The local forest department reported that more than a dozen hyenas—possibly from the rescued hyena's clan—are known to live in the area.
Hyenas can hear the calls of their clan from more than 2 miles away when they become separated, so it's possible that her family members heard her cries and were anxious for her safe return. 
Well done, Animal Rahat! If you would like to support their hard work for animals, please visit AnimalRahat.com and make a donation to help them help animals.