2012: A Victorious Year for Animals
The year 2012 was filled with so many victories and achievements for animals, it's not possible to list them all in one blog. Here are just a few of the highlights:
Using footage shot by undercover investigators, PETA India released "Glass Walls", the first-ever exposé showing the routine cruelty of the Indian meat, egg and dairy industries. R Madhavan narrated the powerful video, which got its name from legendary animal advocate Paul McCartney's famous quote, "If slaughterhouses had glass walls, everyone would be vegetarian".
An animal supplier in China duped Cathay Pacific Airways into transporting 70 beagles to India for use in experiments by a pharmaceutical company in Bangalore, against the airline's policy of not flying animals to laboratories. But PETA India, other rescue groups and MP Maneka Gandhi were wise to the ruse, and when we told you about it, 50,000 of you demanded that the dogs be released from the laboratory. Authorities listened to your pleas, and the beagles were rescued and placed up for adoption.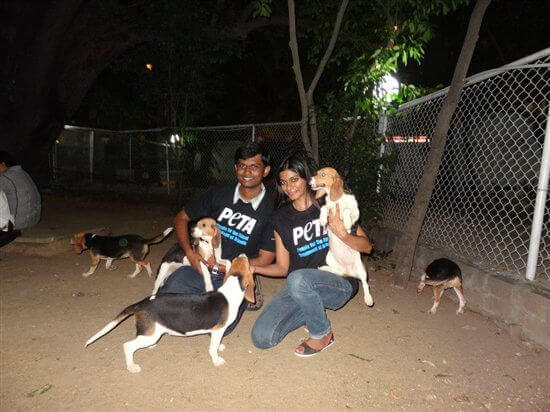 Jet Airways, India's second largest airline, joined Cathay Pacific and numerous other major airlines in agreeing never to transport animals for use in experiments.
PETA India snagged the Lush cosmetics company's first-ever global Lush Prize for our lobbying efforts to end cosmetics testing on animals. We worked to have the Bureau of Indian Standards accept non-animal testing methods and continued to push the Indian Ministry of Health and Family Welfare to ban animal tests for cosmetics.
After years of pressure, the Election Commission of India issued a statement advising all political parties and candidates to refrain from using animals in campaigns. Animals used in campaigns are often overloaded, beaten and shoved into terrifying crowds.
Millions of children will learn how to respect animals and peacefully coexist with them now that the Central Board of Secondary Education endorsed our humane education programme, Compassionate Citizen, on its official website. The Animal Welfare Board of India (AWBI) also agreed to endorse and promote Compassionate Citizen.
PETA also worked with AWBI to successfully encourage the government agency to classify the common crushing method of castrating bulls as a violation of The Prevention of Cruelty to Animals Act, 1960. The AWBI states that all bulls must now be castrated under anaesthesia by a veterinarian.
Shoppers will have an easy time finding vegan restaurants, grocery stores, clothing and personal-care products, thanks to PETA India's new list of companies that don't test on animals, our easy-to-identify "PETA-Approved" logo and our vegan logo for restaurants.
The Central Warehousing Corporation saved countless animal lives when it agreed to stop poisoning and suffocating rats in order to test its airplane-cabin fumigation process. The company now uses non-animal methods.
PETA India's young division,

PETA Youth

, reached thousands more socially conscious young people with information about cruelty to animals and animal rights by partnering with Submerge, Sunburn, Nokia Indiafest and more than 130 college events.
The sight of bullocks being forced to toil under heavy yokes in the hot sun while hauling sugarcane may soon be a thing of the past, thanks to a groundbreaking new initiative from PETA India's friends at Animal Rahat. The organisation is successfully persuading sugarcane factories to switch to tractors, saving hundreds of bulls from suffering.
After a five-year campaign by PETA India, the Ministry of Food and Civil Supplies' Controller of Rationing ordered oil companies to replace bullock carts with auto rickshaws, saving bullocks from having to pull carts loaded with kerosene on the congested streets of Mumbai.
Even more bulls were spared when PETA and Animal Rahat worked with authorities to stop plans for a series of illegal bullfights and bull races.
To help schools that offer medical courses adopt new non-animal training methods, we sponsored a series of free workshops that introduced instructors to modern, superior educational tools, such as human-patient simulators and interactive computer-aided teaching models.
Animal advocacy became the hot new style when PETA India teamed up with the Fashion Design Council of India for a "

Fashion for Freedom – Boycott Zoos

" event during Fashion Week. The star-studded event reached thousands of people with the message that exotic animals belong in the wild – not in cages.
Thank you for everything you did for animals in 2012. We look forward to sharing many more victories with you in 2013.