A Year of Happy Endings: PETA's 10th Anniversary Calendar Highlights Inspiring Animal Rescue Stories
PETA India has rescued countless animals since its inception a decade ago, and we're featuring 12 of them in a special 10th anniversary calendar! The 2010 "Rescued" calendar is illustrated with beautiful photographs of the animals and touching stories describing each animal's rescue and his or her new life. Each story is also accompanied by information on how you can help animals in similar situations.
The following are just a few of the stories featured in the "Rescued" calendar: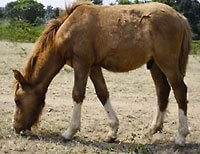 Harshvardhan the Colt
Mahesh Hiremath was working in his field near the village of Kupwad when he saw a herd of horses being driven past. He noticed that one young animal was severely wounded, bleeding and unable to walk properly. Feeling sorry for the colt, Mahesh bought him, named him Harshvardhan and turned him over to Animal Rahat – an animal rescue group that receives support from PETA – for treatment and lifelong care.
Rex the German Shepherd
When PETA India moved its headquarters to Pune, staffers noticed that a neighbour was keeping a German shepherd named Rex chained outside all day long in all weather extremes, including rain, freezing cold and severe heat. Denied proper shelter and contact with humans and other dogs, Rex barked day and night. Eventually, the neighbour agreed to give Rex to PETA India staff. In his new home, Rex is happy and playful.

Surya the Tiger
PETA rescued Surya and nine other tigers from the Empire Circus. They had lived in small, barren cages without adequate food or access to a pond to cool off in, and trainers had used beatings, starvation and other cruel methods to force them to perform tricks. Now the tigers live at Nahargarh Rescue Centre near Jaipur. At the centre, they have everything they need, including a pond.
Rapple the Cat
Rapple had become trapped on a locked terrace on the second story of a building. She was unable to climb down by herself, and no one could reach her. PETA supporters called for a fire-fighter, who climbed up to the terrace and retrieved the tired, hungry cat.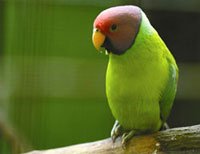 Pintoo the Parrot
A PETA India staffer spotted a man trying to sell a caged blossom-headed parrot. The staffer informed him that keeping wild birds in captivity is illegal. She then took the parrot to a veterinarian, who discovered that the bird was severely malnourished. After being treated, Pintoo was rehabilitated and released into the wild.
Rani the Donkey
Dr Dhananjay Shinkar, Animal Rahat's veterinarian, was doing routine work in Miraj when he came across a donkey named Rani on the side of the road. Rani had a scabies infection so severe that she had lost most of her fur. Dr Shinkar took Rani to Animal Rahat for treatment. She has recovered and is enjoying retirement with other rescued animals.
To read all the inspiring stories highlighted in PETA's 10th anniversary calendar, order the calendar today! Please call 020-26058102-05 or send an e-mail to [email protected] for more information.